Thank you to everyone for the sweet comments and messages about my dad. He is doing great! He is back home and acting like nothing happened. We are so blessed! However, I got far behind on everything I had planned, but I wouldn't change anything from being there to help him in any way I could. So today I am going to play catch-up on here. I have been working on catching up on e-mails, comments, and messages. Hopefully, I will be able to get done by tonight.
Porch Bed Swing
I just love my porch bed swing that I wrote about Monday in the hospital. I can't wait to go back to the river house Friday so I can lay on it and catch-up on my books. It is definitely needed after all the events from this week. Check my post
Porch Bed Swing
to see some hear more about the process of building and hanging it.
Anniversary
Yesterday, my husband and I celebrated our two year wedding anniversary. We really did not get to do anything, because I was exhausted from taking care of all the family items. However, we have plans to go out Thursday night. It seems like yesterday that I was planning for the big day. I am so grateful that God placed Kevin in my life (again...haha). He supports my love for kids and my dedication to teaching. To hear more of our story and our big day, check out my post titled
God Bless the Broken Road
that I wrote on our 1st Anniversary.
Package
Yesterday, I received this package in the mail from
Really Good Stuff
. All teachers just have to love that store! I had ordered the reading basket labels and shelf labels to use in my classroom. Since I am not able to be in my classroom yet due to the guys still waxing the hall floors, I have just pushed the box aside until I can go up to the school. Hopefully, I will get to show you my new buys next week. :)
Giveaways
A lot of the blogs I follow are celebrating with giveaways. I want to hit on a few that I have remembered, but this is definitely not all of them. Over the course of the craziness this week, I have forgotten some of them. Sorry if I forgot you. I'll try to do better in the future.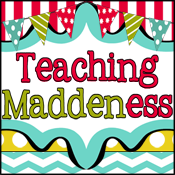 One Lovely Blog
I was so excited to see the other night that Chelsey at
The Wild West
gave my blog it's first award.
The One Lovely Blog Award!
This is definitely what I needed to boost my spirits this week. I don't have time right now to pass the honor, but there are so many of you that I would love to pass the honor to. I appreciate you, Chelsey, for picking me, and I appreciate everyone for supporting me as I have started the journey of keeping up a teaching blog. I hope you gain inspiration as a teacher to keep up the work!
I think that gets me caught up for now. Hopefully, I will be able to catch-up tonight and will be back in full swing tomorrow. Have a wonderful Wednesday!